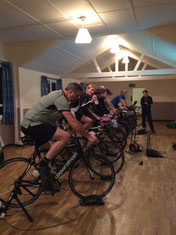 Indoor training isn't quite as boring as many of you imagine...
Great, safe* and sociable turbo trainer group session yesterday evening in Arkesden.  Organised by Craig Dyce, It was the 4th adult session focussing on steady states and breakaways. It's every Thursday if you fancy joining us.  #DyceFitness 
*Safe - Safer than running outside.  I was running this morning and a car hit me with it's passenger side rear view mirror. Thanks, no injury but was forced to shout in French!